Professional Fiber Infrastructure and Cabling Solutions

Corning Fiber & Structured Cabling Infrastructure
White-Harris has been the leading force in the Philadelphia & Cherry Hill area for Structured Cabling and Fiber Cabling Infrastructure for over 34+ years!
FIBER OPTIC NETWORK INFRASTRUCTURE
Health, Education and Campus Networks Fully trained and certified as a Corning Preferred Installer. OM3 / OM4, single-mode, multi-mode, MTP / MTP fiber trunks.
CABLING
Data, Voice, Video,  and Wireless AP Infrastructure Cat 5e / Cat 6 / Coax. Trained and certified with Fluke/ Commscope / Siemons / Panduit MDF / IDF terminal cleanup.
COMMUNICATION SUPPORT
Overhead Paging, Sound Masking, Security Cameras, Audio/Visual & Video Conferencing.
DATA CENTER
Cable management, Rack & Stack Certified Corning Fiber installations.
ICRA CART INSTALLATION
Dust Containment Systems JCAHO accredited.
Before and After White-Harris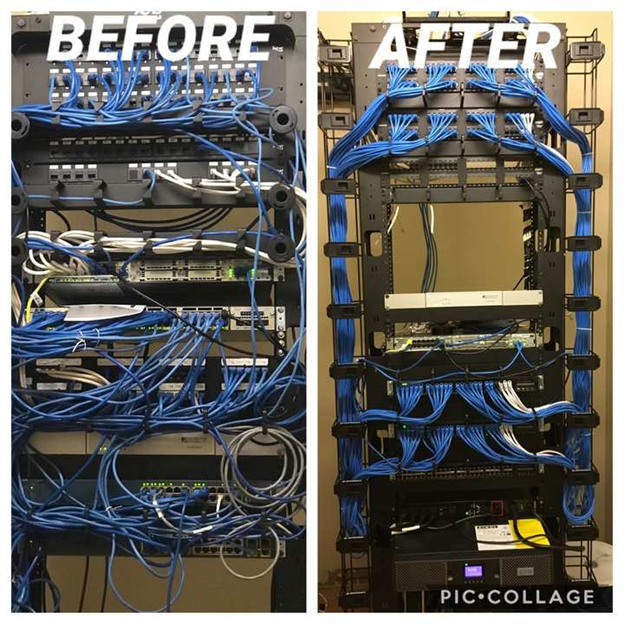 Fiber Structured Cabling Infrastructure Solutions Certified To Industry Standards
With White-Harris as your structured cabling infrastructure expert, we will certify your fiber/cabling backbone to industry standard, design and install your private office fiber network and ensure the highest capabilities for your IT investment. We continuously train and certify on our cabling products and our high end measurement equipment i.e. Fluke and EXFO. We have made investments in dust containment HEPA / ICRA certified services to provide the highest standard of service to our healthcare customers.
Do you need a network backbone? Using Corning Fiber Cable as your network infrastructure you will have virtually no connection limit for your network and with White-Harris installing for your business you can rest easy knowing that our experienced cabling technicians will complete the job with efficiency and productivity like no other company.
Cabling Closet Cleanup
Messy structured cabling can cause your small to medium business thousands in future costs. Need to add an extra line? Troubleshooting a bad wire? Good luck with that when your patch panels look like the before picture on the left. It could cost you thousands in extra hours trying to get done simple jobs due to a messy cabling closet.
White-Harris is professional and clean when it comes to cabling & wiring patch panels and data closets. As our customers can attest to that, we are the preferred structured cabling installer when it comes to Camden, Burlington, Gloucester and Salem County areas.